An overview of some of our favourite Isle of Wight restaurants, pubs and cafes. Each number on the map corresponds to an item in the text below.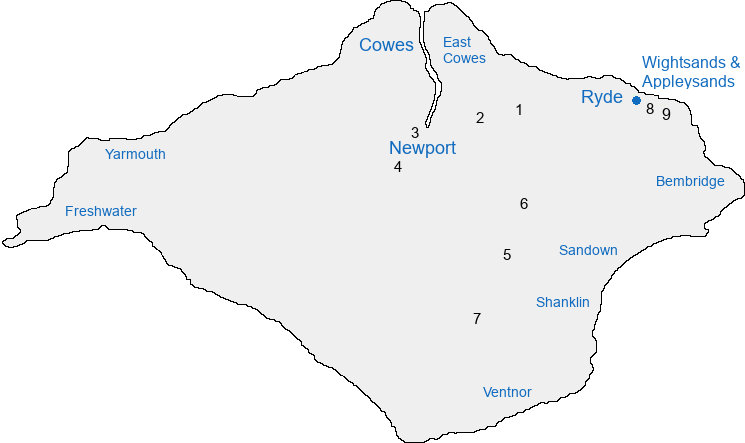 1 – Sloop Inn
Best known for its all week carvery, you get a combination of meats (turkey, gammon and beef) a Yorkshire pudding and a free selection of vegetables, roast potatoes and sauces. It is now doing pizza and burgers too.
A working farm where you can get up close to the animals, but what I really like are the coffee and cakes in the barn converted cafe. Lunches are lovely and very filling, using tasty local produce.
A great pub restaurant where they make sure you don't go hungry. Some nights they host live music as well, which can make it worth booking a table in advance.
4 – Eight Bells Inn
Serves large portions and has plenty of seating both inside and out. There's a nice children's play area outside as well, though it does has a stream running close by so keep an eye on the little uns.
Plenty of space inside, childrens play area outside and lots of parking. Generous portions from an extensive menu make it one of my regular eating haunts.
Situated in the valley of Arreton, there is a cafe serving quality home-grown food, excellent coffees and magnificent cakes. There's also a shop selling a wide variety of authentic garlic produce (great for gifts back home).
7 – The Taverners
Fantastic food (including seasonal specials) using foraged and IoW produce. Toddlers play area and a beer garden onsite. Well worth the little extra in price.
8 – Puckpool Cafe
Opposite a great childrens play park and serving large plates of delicious food. Pucka pizzas are their speciality, which i can certainly vouch for!
9 – Appley Manor
A fine restaurant right on the doorstep of Wightsands. Spacious, ambient, and with great home-cooked food and daily specials.